News

Introducing the RS6 Laser Scanner
4 December 2019
The HEXAGON MI RS6 3D scanner for the new generation of Absolute Arm coordinate measuring arms allows you to get point clouds of extremely high density with high speed and accuracy. RS6 delivers unmatched performance compared to competing scanning systems through SHINE technology, a suite of advanced algorithms. SHINE allows you to measure with the highest quality and accuracy, without requiring a reduction in line width and frame rate.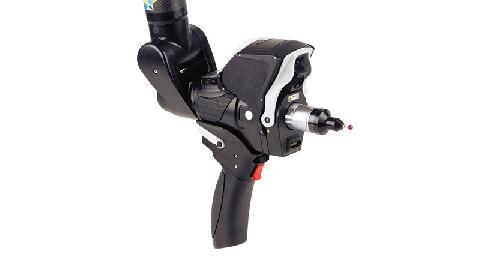 The RS6 laser scanner boasts a scan line width of 150 mm in the middle of the range, which allows you to increase surface area by more than 30% with each scan compared to the previous generation Absolute Arm laser scanner. In this case, the frame frequency is increased three times and amounts to 300 Hz, which makes it possible to scan three times faster without losing detail of the scan result.
RS6 can be completely removed from the coordinate measuring arm in seconds, which simplifies working with it at a time when the scanner is not in use. Thanks to an innovative fastening system that provides high repeatability, the RS6 scanner can be removed and installed without re-calibration.

In addition, RS6 is equipped with a unique illumination of the working area, which greatly simplifies the positioning of the scanner in space relative to the scanned surface.
The scanner can already be ordered complete with the new Absolute Arm 7-Axis coordinate-measuring arms or as a modernization kit for previously acquired Absolute Arm 7-Axis systems of the current generation.