News

KODA will held webinar about advantages of digital weighing systems
26 February 2021
Dear colleagues!
We are pleased to inform you that the Ukrainian Grain Association and a member company of UGA KODA announces an open online webinar: "Advantages of digital weighing systems. Anti-theft during weighing. Weighing automation".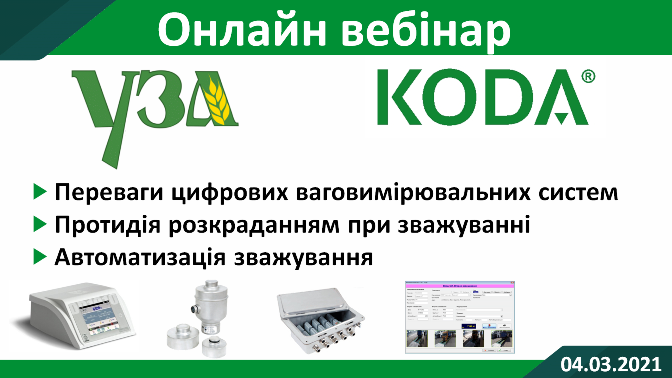 The webinar is scheduled for March 4, 2021 at 2 p.m.
Approximate time of the webinar - 1.5 hours (up to 60 minutes report and 30 minutes questions and answers).
Webinar program:
Comparison of technical and metrological characteristics of analog and digital weight measurement systems
Digital strain gauge systems BILANCIAI
Review and analysis of known methods of product theft during weighing
KODA weighing automation and control systems
Weighing of cars and cars without participation of the weightlifter
Speakers:
Semenets Oleksiy Vitaliyovych, Deputy General Director of KODA
Kozlov Alexander Vasilyevich, Technical Director of KODA
The webinar will be held online in Microsoft Teams software.
Participation in the event is free if you register at the link.
A link to the webinar will be sent to the email addresses provided during registration.
More about the event on the UGA website.