News

UA Company KODA Ltd successfully passed the recertification audit according to the international standard ISO 9001:2015
17 September 2021
In September 2021 UA Company KODA Ltd successfully passed the recertification audit which was carried out by an international certification body Bureau Veritas in order to confirm compliance with the requirements of the international standard ISO 9001:2015.
The quality management system of UA Company KODA Ltd has been certified since 2006 and is still maintained and improved, which is confirmed annually by external audits.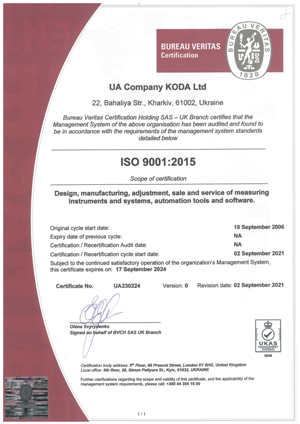 According to the positive results of the recertification audit UA Company KODA Ltd confirmed the ability to stably produce, sell products and perform services, the quality of which satisfies the wishes of our customers, taking into account international requirements and the legislation of Ukraine.