News

VEGA online live demo: measurement technology for liquid foods
1 October 2021
Whether mustard, juice or sauce: Even minor deviations change the appearance and taste of liquid foods – not to mention the efficiency of the production processes, which is key in converting valuable raw materials into market-ready liquid products. So it's worthwhile to have a close look at existing level solutions in liquid foods production and how they affect consistency and efficiency:
— As abrasive as blackberry jam?
VEGA radar sensors VEGAPULS 64 guarantee that level measurement in supply containers and storage tanks stays reliable – notwithstanding abrasive media, condensate, buildup or temperature fluctuations.
— As thick as mustard?
VEGAPOINT 24 level switches ensure overfill protection, prompt empty signalling on storage tanks and dry run protection for pumps. Especially when it comes to viscous, pasty media, this sensor easily outperforms its competitors.
— Homogenised under high pressure like mixed juices?
Stable pressure measurement with VEGABAR 83 ensures, for example, more efficient CIP cleaning or controls the high pressures in the heat exchanger.
After watching VEGA live demo, you'll realise how easy it is to optimise your processes for all liquid foods.
Sign up to participate: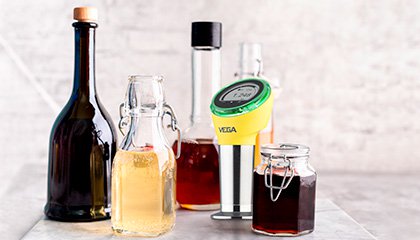 We wish you many new ideas and interesting experiences!